The Benefits of Slow Travel in East Africa
Encourage your clients to embark on a slow travel safari in East Africa on their next adventure. 
Like the finer things in life, travel is best appreciated when savored, with time to enjoy every facet of the experience. A slow safari in East Africa is no exception. With such diverse landscapes, vibrant cultures and extraordinary wildlife, more time enables travelers to properly absorb the magic of a place and indulge in a range of meaningful experiences without rushing. At Grand Africa safaris, we believe that travel – particularly in East Africa – is as much about the journey as the destination.
The perks of slow travel:
A chance to connect
We are all about crafting itineraries for your clients that offer them the chance to relax and savor the experience of wild East Africa. By spending more time in the places they visit and really connecting to the environment, local cultures and people, they will be able to truly understand what makes these destinations so special.
More opportunity for unique experiences
Without having to rush, they will also be able to indulge in more off-the-beaten track activities that they may not have considered if time was tight. Unforgettable adventures like horseback safaris, fly-camping, walking safaris, or visits to local communities can add a whole other level to the overall safari experience and can be enjoyed without feeling overwhelmed or exhausted.
Access to Stay Pay promotions
And let's not forget the accommodation. With such incredible lodges, camps and resorts on offer in East Africa, it makes sense for your clients to get as much out of their experience at their chosen property as possible. Our exclusive selection of the best luxury properties in the region often make this easier by offering guests incredible Stay Pay deals that encourage longer stays for less. It's a win-win situation.
Below are some of our top choices for longer stays in Kenya, Tanzania and Zanzibar with evergreen Stay Pay offers that can make a slow safari in East Africa a dream come true – even for the most discerning client.
The Sanctuary at Ol Lentille, Kenya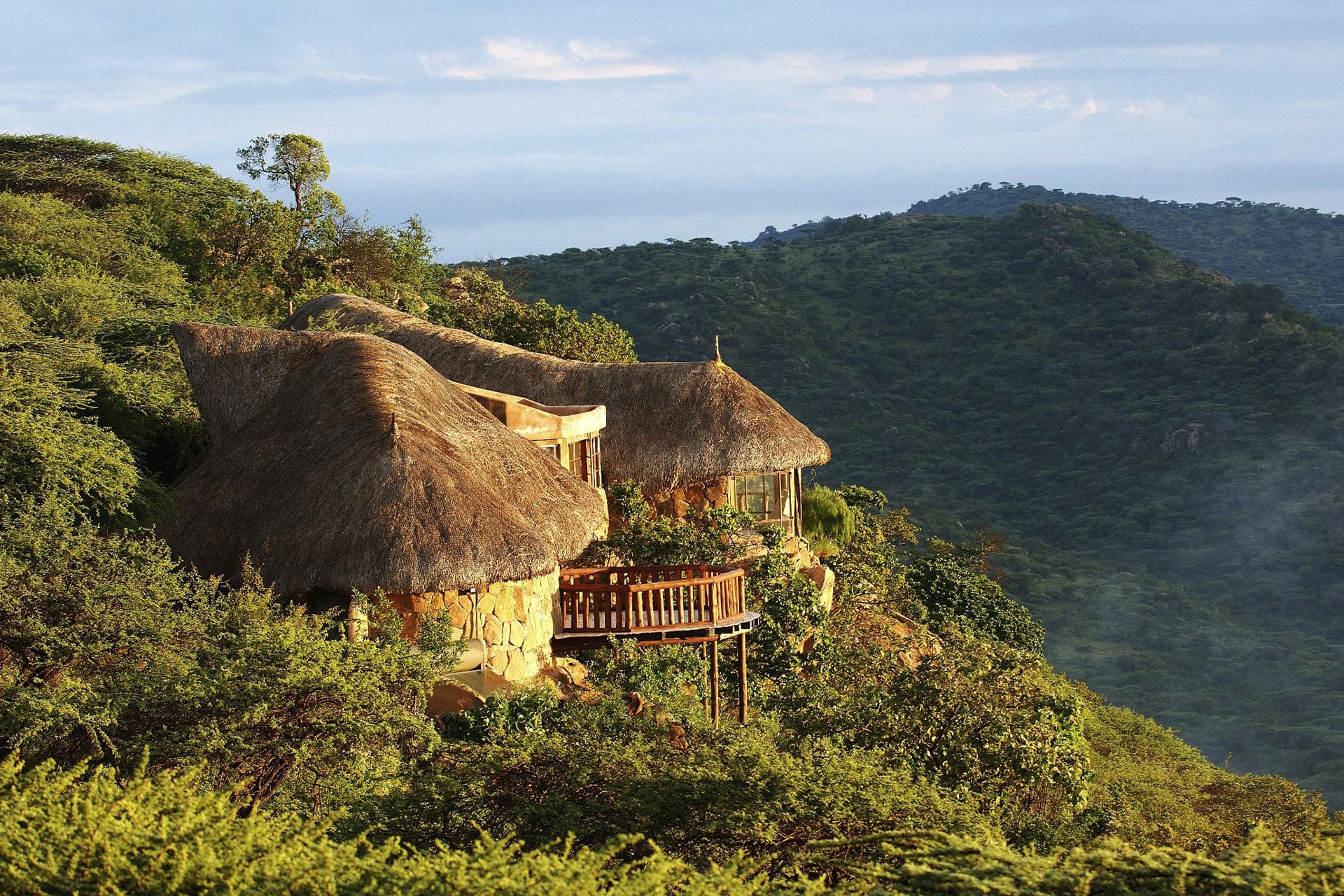 One of Kenya's most exclusive safari lodges, The Sanctuary at Ol Lentille offers a collection of four luxurious private villas with sweeping views of the peaks of Mount Kenya, Mount Ololokwe, and the Karisia Hills. ⁠Nestled on the edge of the northern escarpment of the breathtaking Laikipia Plateau, the lodge is surrounded by vast untamed wilderness of the most extraordinary quality. 
Each villa at The Sanctuary at Ol Lentille comes with a private butler service to tend to your clients' needs when they are not exploring the 40,000 acres of pristine wilderness, teeming with wildlife. ⁠
Why stay longer: A longer stay is highly recommended and encouraged to enjoy the plethora of thrilling safari activities including helicopter flips, bush walks, and horse or camel safaris – all private and led by knowledgeable Samburu and Maasai warriors.
Lemala Mpingo Ridge Lodge, Tanzania
Stay 4 nights or longer and get 25% off each night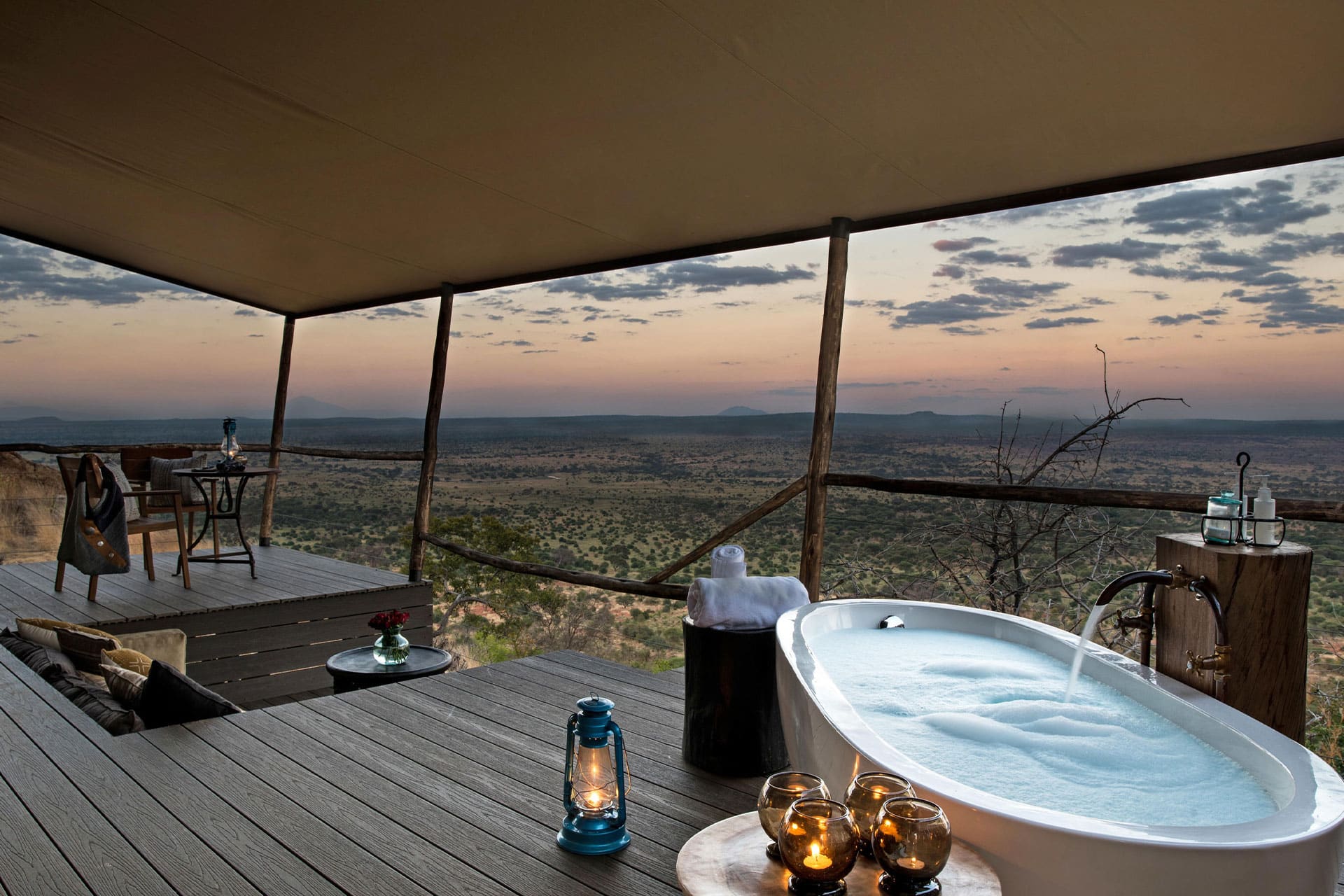 We believe that the Tarangire National Park is a great starting point for clients who want to embark on a slow safari in East Africa. Renowned for its huge herds of elephants, bulbous baobab trees, and extraordinary birdlife, it is also visually stunning with some of the best scenery in the region. Seated on the top of an escarpment with exceptional views of the Tarangire River and green valley below is Lemala's Mpingo Ridge Lodge. 
Mpingo Ridge Lodge comprises 15 luxurious tents, each with a sunken outdoor lounge and indulgent outdoor bathtub on a private deck, perfectly positioned to enjoy the panoramic views. 
Why stay longer: A slow safari here is recommended to get the most out of the exceptional game viewing, led by some of the most experienced guides in the park. An abundance of plains herds attracts loads of predators, and night game drives are also offered to discover more rare species like civets and genets, while experiencing Tarangire like never before. It's worth sticking around for. 
Baraza Resort & Spa | Zanzibar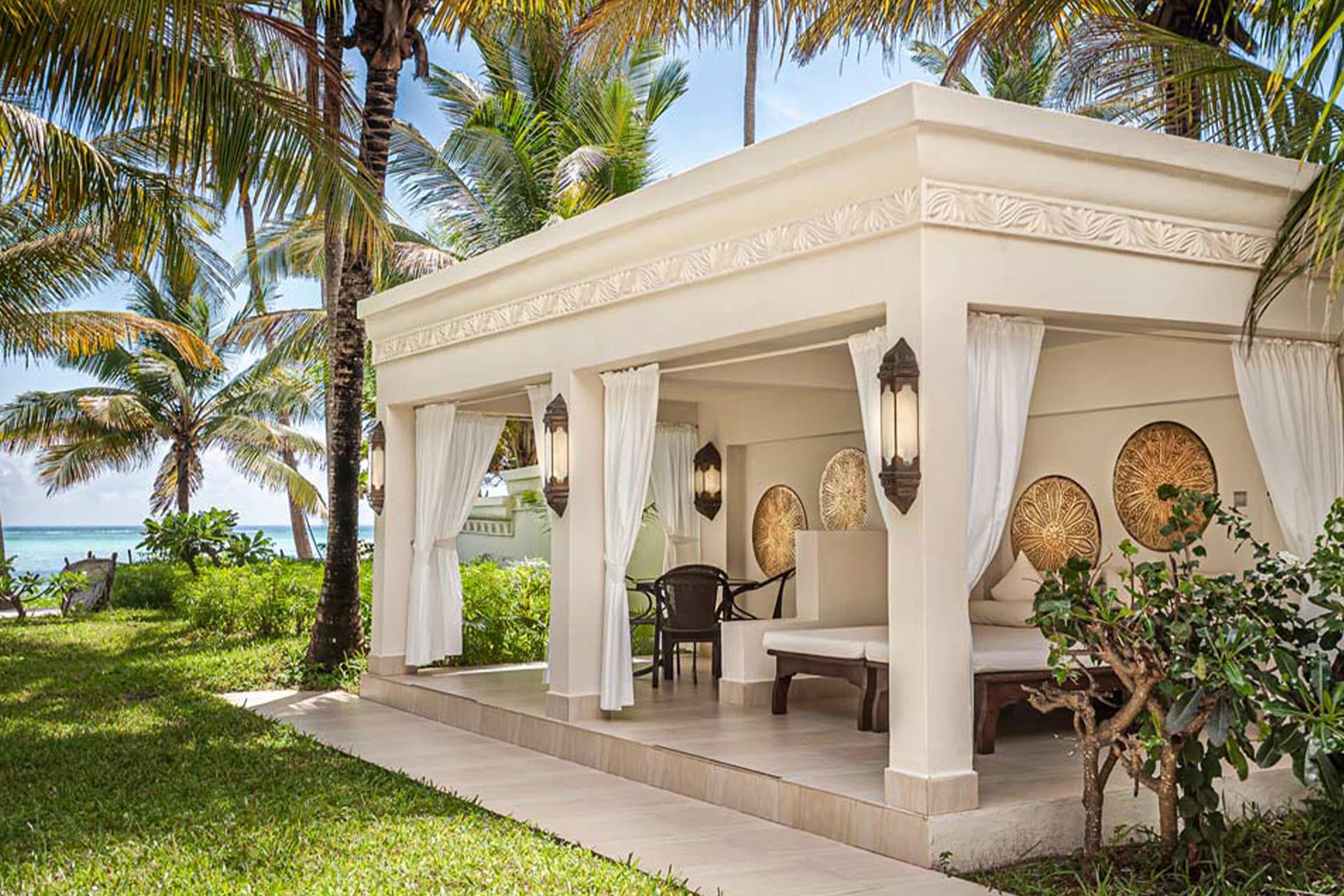 There are few things that round off a slow safari in East Africa better than an extended stay at a luxurious resort on a tropical island. Fortunately, Zanzibar is just a short flight away. And rated amongst the best hotels on the island is Baraza Resort & Spa – located along the white sands of the Bwejuu-Paje beach. Baraza is a stunning fusion of influences with a blend of Arabic, Swahili and Indian design notable in the arches, intricate hand-carved décor and handmade wood and brass furnishings. 
Offering unparalleled levels of luxury, the 30 exclusive villas are hidden amongst lush palm gardens and feature opulent interiors with private plunge pools and direct access to the beach. 
Why stay longer: After a thrilling safari in Kenya or Tanzania, your clients can spend their days dipping in and out of the crystal clear waters, diving in colorful coral gardens, sipping on fresh coconuts and basking in the warmest of authentic Swahili hospitality.
Great Plains Conservation ol Donyo Lodge | Kenya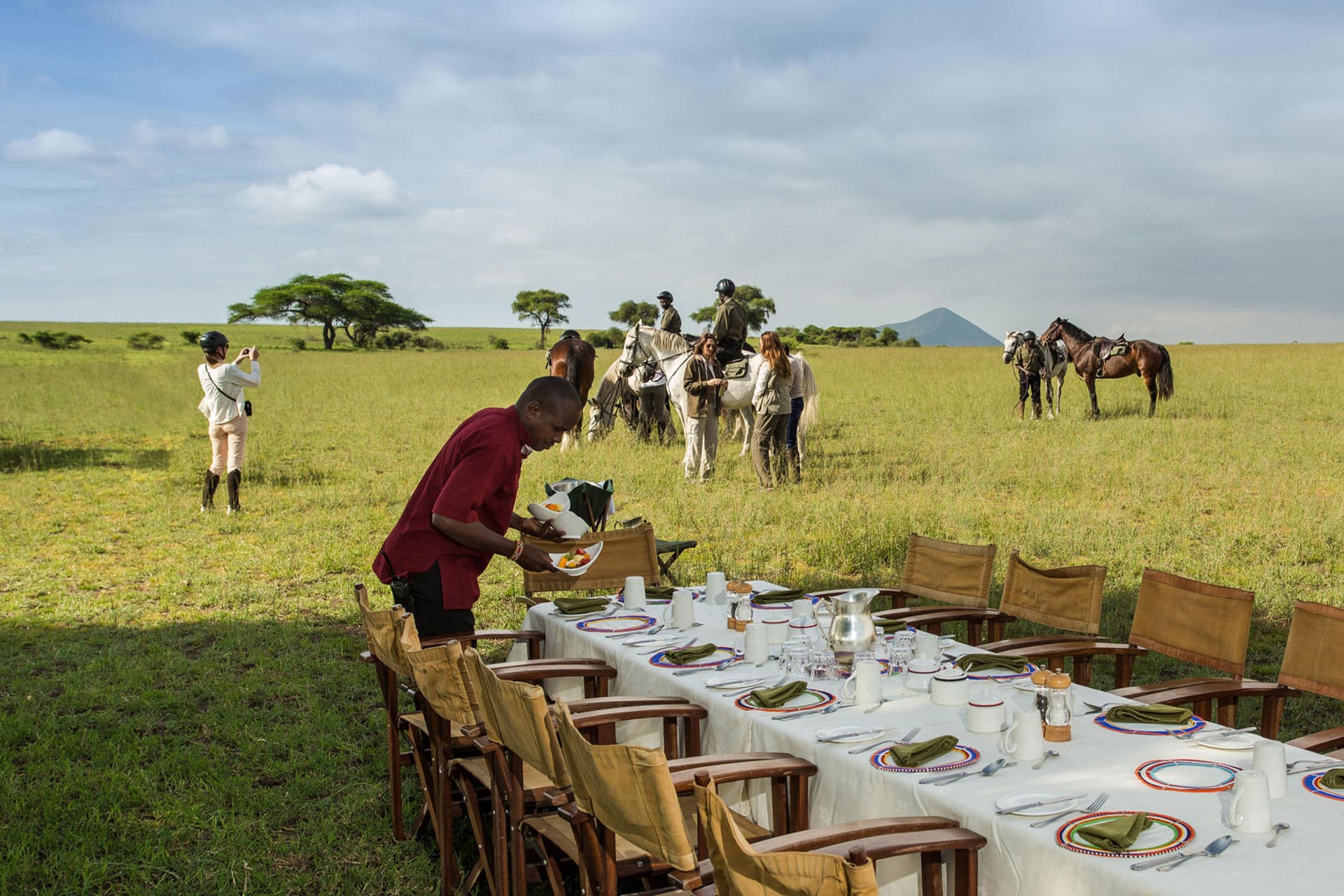 Located on the slopes of Chyulu Hills on the land bordering the Chyulu Hills National Park is ol Donyo Lodge by Great Plains Conservation. This game-rich region – considered to be one of Kenya's most prized safari destinations – is wedged between Amboseli and Kenya's Tsavo East parks and lies on the foothills of the great Mount Kilimanjaro. ol Donyo Lodge is a thrill-seekers paradise with some epic safari activities on offer including fly-camping, horseback safaris, helicopter flips and more. 
Each luxurious suite overlooks the vast savannah plains to Mount Kilimanjaro and features a private plunge pool and a rooftop terrace with a luxurious star bed to enjoy a night under a canopy of African stars. 
Why stay longer: One of Ol Donyo's most unique safari experiences is quietly observing wild game – including fringe-eared oryx, giraffe, warthog, large cats, and Africa's largest tusked elephants – that gather around the waterhole from their unique log-pile hide. It goes without saying that a longer stay here is a must!
Royal Migration Camp | Tanzania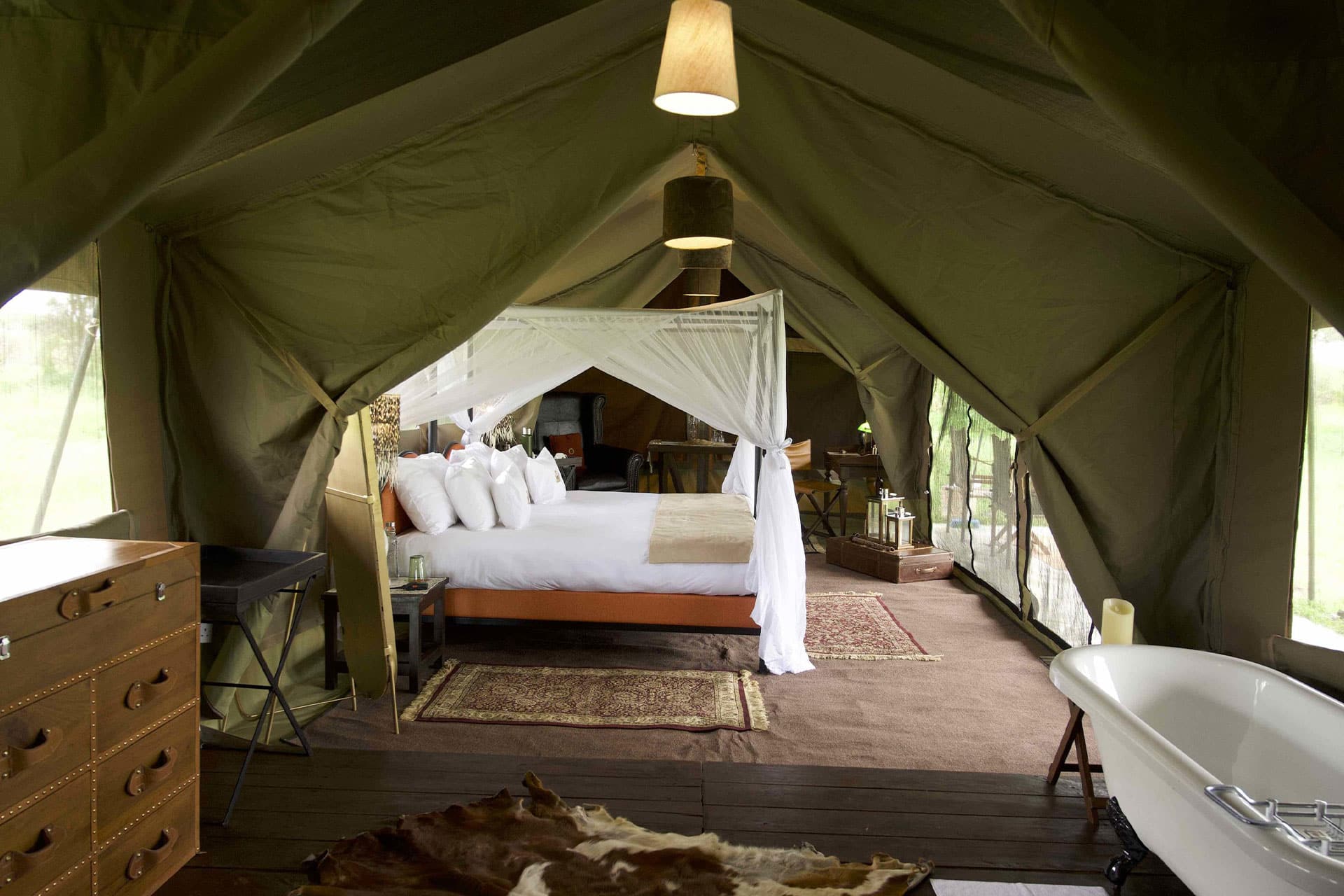 As the name suggests, the Royal Migration Camp is an exceptionally located mobile camp, famous for offering guests optimal viewing of the Great Wildebeest Migration. The camp moves twice during the year with one camp located in Ndutu in the southern Serengeti from December to April, and the other located in the north in the Mara River area from July to October. This all-inclusive camp comprises just six luxury tents, each ensuring the highest level of exclusivity and personalized service as well as a private valet and safari vehicle.
Why stay longer: It is always recommended for clients to stay longer when visiting the Serengeti for the migration. Because of the unpredictable behavior of the animals, longer stays guarantee better sightings of the spectacle. A highlight of the Royal Migration Camp is having a private vehicle and guide and your clients' freedom to choose exactly where they want to go and what they want to see each day. Who would want to leave? 
Get in touch with our team at Grand Africa Safaris today to craft an unforgettable slow safari in East Africa experience for your clients, where they can truly connect to their destinations and understand what makes this part of Africa so special.